THE IMPORTANCE OF A NEUTRAL PELVIS
by Angelique Garnand & Ana Kokaurova
---
The term "neutral pelvis" may be unfamiliar but the benefits of having this in our own body are

substantial.
Having a neutral pelvis means:
Flatter Abs
More lifted and toned Glutes
Muscular balance
Better core function naturally
Less pressure on the spine
Better curvatures in the spine
Less tension and stress in the neck and shoulders
When your pelvis is in a neutral alignment your pubic bone and hip bones are parallel . Another way to think of this is if you were approaching a wall or flat surface your pubic bone and hip bones would be evenly touching the surface. When your pubic bone is too low you have an anterior tilt, if your pelvis were a bowl of water the bowl is tilted allowing the water to spill over your toes.
ANTERIOR PELVIS: POSTERIOR PELVIS: NEUTRAL PELVIS:
- increased tension on low back
- difficulty breathing into
the lowerlobes of the lungs
- more strain in the hip flexors
- belly will appear distended
regardless of weight
- locked knees
SO...HOW DO YOU GET & KEEP YOUR NEUTRAL PELVIS?
Well, two wrongs don't make a right. Another words...don't just shift your pelvis in standing. Do the exercises that change your fascial, neuromuscular and bony positions. Do the exercises and make the connections in your body that get you to more neutral organically, naturally without strain! This is the biggest difference between VASIE Pilates and all other modalities. When doing a VASIE posture prep (pictured below) you will activate the reflexes that get your pelvis more neutral AUTOMATICALLY and without thinking. Every VASIE class is designed to get your pelvis more neutral, it is the foundation for a great, pain free and structurally integrated body.
An example of an exercise that will get your pelvis to more neutral:
if you are "anterior" you will most likely lift your ribs
and arch your back without knowing it!

A common correction...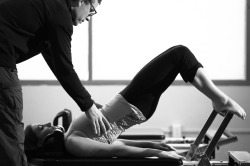 Nuetral!!!
Neutral and Imprint close-up