Studio One Pilates Anchorage, Alaska
Welcome to Studio One Pilates, the number one Pilates studio in Anchorage, Alaska! The Studio One experience goes far beyond the bounds of a traditional gym or fitness center. Whether you want to lose weight or are looking for flatter abs, increased flexibility, improved core muscle toning or endurance, Studio One Pilates guarantees that you will see results. Studio One utilizes the VASIE method by integrating the latest research with Pilates-based exercises & Rolfing structural integration theory. You WILL see results, or Studio One will refund the full price of your class, GUARANTEED!
Studio One Pilates offers a full spectrum of group fitness Pilates classes including whole body boot camp, back and joint boot camp, pre and post-natal, VASIE Barre, signature Studio One VASIE bar system and reformer program. All Studio One instructors are full-time professional instructors with advanced training and five hours of continued weekly advanced study. In addition, all Studio One programs are research-based, reviewed, and approved by over 100 local physical therapists and medical doctors.
DOWNLOAD OUR NEW

SCHEDULE APP
---
---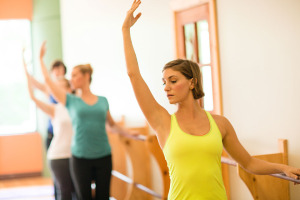 3 weeks of intense ballet-based barre exercises
(No dance experience necessary)
---
For new moms, 8 weeks to 2 years post-partum:
Restore and strengthen pelvic floor and low abs;
Shrink rib cage
---
Our greatest hits & best tricks to shrink your waist
in 45 minutes, twice per week for 3 weeks

---
---
Ab-Flattening SECRETS
---
LONGER necks & FLATTER abs
How do Studio One clients get longer necks and flatter abs?
By doing ab work correctly!
Use this simple rule to stay out of your neck:
Simply roll up high enough so your face is parallel to the wall in front of you.
- Ana Kokaurova, training director
---
Designed by physical therapists & Studio One
Core-focused, research-based stability exercises to help you get of pain and back into exercise.
Send me more great info!
Sign up for the Studio One newsletter and never miss out on great articles and monthly specials.
---
Studio One CHANNEL
---
Don't take our word for it
Meet a client...
Meet a health care practitioner
---
The Studio One Promise:
We strive to serve you in reaching your goals. ALL STUDIO ONE PROGRAMS COME WITH A MONEY-BACK GUARANTEE. If you aren't completely satisfied with a program or product, please contact us.
---
Studio One is powered by VASIE™ Pilates
The art of healing through exercise
VASIE ™ results are achieved by integrating the latest research with Pilates-based exercises & Rolfing structural integration theory to create & deliver our Studio One workouts. VASIE stands for Van Alstine Structural Integration Exercise.
---
OWN YOUR BONES
™
Change your bone structure! Go beyond maintenance, cardio and fitness. Address the deep structural and postural issues to keep yourself doing more of what you want longer. Knocked knees, dowager's hump, weak chin line, flat feet, rounded shoulders, flat low back, exaggerated low back curve, hammer toes - all structural issues that are addressed slowly, gently with VASIE Pilates, from your core out.
---